This week on the
Purple Crumpet Fairy Challenge
the theme was to use your most hated polish.
I decided to use 17 High Gloss Nail Polish in Cocoa Cabanna. I picked this polish up for 70 pence when I got my epic sale haul from Boots in the summer just before i started getting into blogging. I beielve this polish is now discontinued. I really don't know why I bought it. It has stayed in my untried ever since. I really hate brown polish.
For this mani I used another polish which I quite dislike, Barry M Gold Glitter crackle polish, for me it is just to gritty-looking with the glitter.
Anyway here is the mani in question: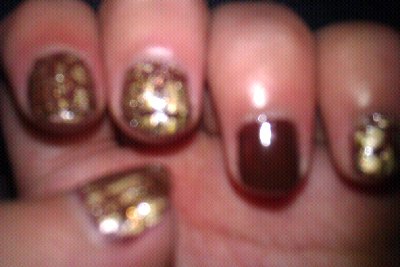 I did wear this for a few days actually I don't detest it but it still hasn't covinced me.
Check out the others girls most hated manis: