So firstly let me wish everyone who is following a very merry christmas and a happy holiday season!
So I am a very lucky lady, I have made some wonderful friends this year and have become involved in a wonderful community of people all thanks to a bottle of nail polish!
One of these lovely ladies Jewli from Germany is someone who I have only recently started to get in contact with but she is a lovely. Jewli is just one example of the amazing ladies I have met this year.
Anyway Jewli offered to send me through some of my major lemming polishes from Essence. They are not availble in the UK so I jumped at the chance. What was amazing is the fact i never expected these to arrive before christmas given the fact this would be an internation order. Also this was Jewli first swap so I wanted everything to go well for her.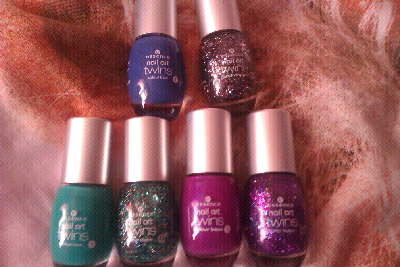 I am so happy with the polish i got! Here is Essence Twins Chuck and Blair (top) Bella and Edward and Gabriella and Troy.
Each of these polish is in a set of two one is the base coat colour and the other is the glitter topper.
I was really worried that by doing the Purple Crumpet Fairy challenge that I had shown you guys all my best polishes and would have nothing to show you for christmas day. ...
However I decided i would wear Bella and Edward!
This is one thick coat of Bella. I am sorry but i didn't tidy up in this picture. Bella is a wonderful greenish turquoise with an amazing a glossy finish! I haven't found a colour that goes so well with my skintone before. I cannot gush enough at this polish!
I then added a topper- Edward which is a micro silver glitter that flashes green mixed with turquoise square glitter that flashes steal in a clear base. I cannot express how much i love this combo they work perfectly together in a way that slapping a coat of glitter polish on top of another colour just can't!
I would also like to point out that i bought a bottle of OPI nail envy and this is the first mani with this as a base coat. I will keep you all upadted with how i get on!