This week over at the
Purple Crumpet Fairy Challenge
the theme was a Jelly Sandwich manicure. This consists of using two layers of a jelly based polish with a layer of glitter between them.
I actually don't own a single jelly polish so i had to use the next best thing- a sheer polish. The trouble is I hate VNL so I hardly buy any sheer polishes anyway. Then I remembered I had the perfect bottle of polish OPI So Many Clowns... So Little Time. This was actually my first ever OPI which i was given about a year ago but because it is nude and sheer I have never used it.
Anyway this polish is a beigey, pinky, milky nude which took three coats to get semi-opaque (there was still VNL on some nails). I then used a coat of OPI Rainbow Connection from the new Muppets Collection. I then topped this off with another coat of SMCSLT and then to make it seem slightly jelly-like a coat of Gelous (it is actually a gel-based base coat).
I love the way the glitter underneath is still totally visiable but blended in. It looks alot like how i picture Deborah Lippmann's Candy Shop (which i really need). This is an easy way to create an instant nail art effect.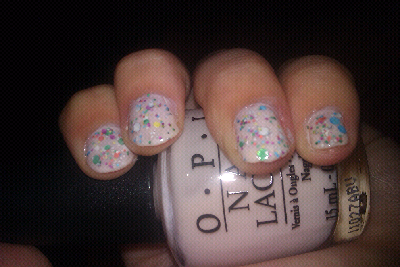 For December us girlies over at the PCFC are going to be doing christmas based designs. There are
31 designs in total but we do not have to do all 31 (thankfully). Here is the full list: