So today I have a Nails Inc polish to show you. Firstly lets just give it up for the fact that Nails Inc is a British brand yay! But there naming system annoys me, although they name their polishes after famous places/streets in London I just find them way too confusing to remember which one is which.
Anyway I love matte polish and was really excited to get this one in a swap over at the
Nails Inc Swap Page
. In the bottle this is a dark cherry/puple toned black polish however these tones are completely lost on the nail, resulting in a matte black. Don't get me wrong it is still an okay colour but if you were expecting something amazing from this polish (like i was) you better get ready to be disappointed.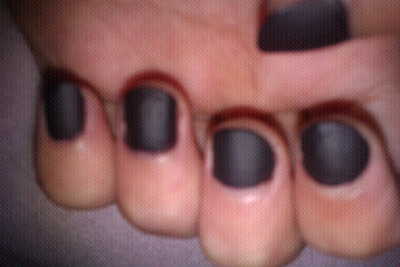 The photo quality isn't great with these but the colour is exactly accurate.
You can see on my pointer finger where i have cleaned up the purple tones which are lost in the polish.
Also I have quite a few matte polishes now and this was the hardest to apply but this may be due to the stubby lid and the fact that you need to apply super thick coats of this (something that I didn't work out until a few nails).
I can't give you any advice on wear time yet as I have only just put this one but Nails Inc state on the bottle that :
"Nails Inc matte nail polish does not last as long as normal Nails Inc polish."
I know matte polishes do tend to chip/ get tip wear quicker than normal polishes but we will see!