I was lucky enough to be asked to do a review for Northern Star polish a few weeks back, one of the polish I received had the fun name "Anybody Want A Peanut?" and straight away it made me think of a fair or carnival in a bottle.
Anybody Want a Peanut? Is a glitter topper polish from the As You Wish collection as is filled with micro purple and gold glitter in a clear base and lots of blue, green and gold multi glitter- including some blue diamonds! This polish is so fun on the nail. This is one (yes just one!) coat over OPI Nein, Nein, Nein Okay Fine.
Over a dark base colour the glitter really pops. I love the mix of the fine and chunky glitter together. I was
surprised
at how well this polish applied, it was easy to work with and there was no need to fish or place the glitter in this polish. Also it all laid perfectly flat on the nail even before I got out the topcoat. As I said before this is just one coat and there is perfect coverage! I find that sometimes Indie polishes can be a bit serious but this really isn't the case here, thus it is just so fun and happy. I would love to try this over a dark purple base next as I think that would work well, but really this polish would go well with any colour underwear!
You can find Northern Star Polish on
Etsy
and a bottle will cost you $6 (they also ship internationally!) Also if you order before March 31st you can use the code 1BDAY for 30% off your order! You can also find Northern Star on
Facebook
Do you own any Northern Star Polishes? I would love to hear what you think of them!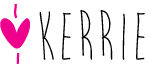 The inclusion of this graphic means that the product above was sent to me for review. All opinions are honest and all information is correct at the time of writing.