Today I am wearing red nails to show my support to those who have been hurt or killed in the explosions in Boston yesterday. You will be able to find all the other red manicures at the bottom of this post.
Today's manicure uses another polish by the lovely indie maker Northern Star Polish. This baby is called
Ligeia
and is a mixture of scarlet red and black matte glitter in a variety of sizes in a clear base. My swatches show one coat over Barry M Raspberry.
This is one coat and I think it gives you the perfect amount of glitter. Application was easy too although I did use two layers of topcoat to get that perfectly smooth finish that I love. Those larger hex's look great and really make this polish unique from the vast collection of red and black polish I own!
This polish is just fun to wear and I definitely recommended this polish if you love red polish and glitter! You can find Northern Star Polish on
Etsy
and a bottle will cost you $6 (they also ship internationally!) You can also find Northern Star on
Facebook too!
Do you own any Northern Star Polishes? I would love to hear what you think of them!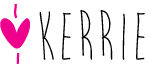 The inclusion of this graphic means that the product above was sent to me for review. All opinions are honest and all information is correct at the time of writing.