Today I am going to share another bling inspired manicure with you using the new nail art 'glequins' I got from the
Born Pretty Store
to review. They do a great range of different
nail art
bits and bobs some of which I have reviewed in the past. What I love about Born Pretty is that they do worldwide free shipping!
I recieved 12 little pots full of tiny hexagonal sequins/ glitter, which you can find
here
. I had previously ordered some off ebay but these ones seemed slightly smaller and more opaque, also these came in a good range of colours. I can see I will be doing loads of designs with these! I decided to do a full-blown bling manicure with them today to show off how pretty they are.
I will admit first of all that you do need patience when it comes to these. This manicure took me about and hour and a half and it's not completely perfect but oh how pretty is it! My nails feel like a colourful disco ball! I used a coat of W7 Black as my base and once it was dry (one nail at a time) applied topcoat. Using a fine dotting tool I dabbed some topcoat onto the end of it and then picked up the glitter individually and placed it on the nail. I found it worked better to shake some of the glitter into the lid of each pot to help you control how much you picked up. Once each nail was finish I sealed it with two coats of topcoat. Three days later and I am still wearing these!
Because the glitter is small they sit flat on the nail and don't snag. Even with rounded nails I doubt you would have much of a problem with these.
These nails are to me the very definition of bling. Don't forget to check out the rest of the Dozen too and I will be back tomorrow with another bling post for you!
If you are planning to order form Born Pretty don't forget you can 10% off your order with the code "BA5X31" which is also on my blog sidebar.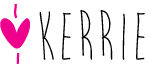 Thclusion of this graphic means that the product abve was sent to f

or review

. All opinions are honest and all information is correct at the time of writing