I was luckily enough to be asked to review some products for Nail Rock. I have seen their products around quite alot and even used one or too. I love the fact they are bringing nail art to the masses in an easy and affordable way. As I got quite a few products I have decided to show you one
The first product I am going to show you is this foil manicure kit.
Inside you get a pretty purple creme polish and a plastic tub filled with very thin copper coloured foil.
You can see that you get quite alot of foil compared to how much you will need per manicure which means this pot will last you for ages! It reminds me of gold leaf with how thin this foil is, but this is so that is sits flat on the nail once applied.
The purple creme applied easily and only took two coats to be opaque. It is a very pretty shade and is just the right tone for this transition from darker winter colours into a spring palette.
Once my polish was dry I applied topcoat and then very carefully applied the foil to the nail by ripping off tiny pieces. This foil is already scrunched up so don't worry about getting wrinkles in it and you really don't want to pull the foil tight onto the nail because you will probably rip it, simply pat it down to make sure it sits flat. I Carefully removed the excess from my free edge and apply topcoat to smooth it all down and make it glossy.
This faux-texture is great because it is on trend and fashionable but not textured enough to be annoying.
I like the clash between the copper and purple and the creme polish and the metallic foil! Of course this creates some truly unique art as it will never look the same twice!
In all I am very impressed with this set and can't wait to show you the other products!
You can find out more about Nail Rock and Rock Beauty London
here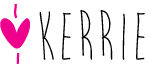 The inclusion of this graphic means that the product above was sent to me for review. All opinions are honest and all information is correct at the time of writing