I was lucky enough to recieve a big sample of nail stickers and vinyl's from Nail Stickrs. They are a US based company but also ship to the UK. I have a few didn't designs to show you over the next few days but I thought I would start simple with the cute vinyl star stickers.
These stars come in two different sizes, the colour I have is this lovely silver glitter vinyl which really sparkles. My base colour is Rimmel London Instyle Coral which is much more pastel toned than my photos suggest. I simply waited for my polish to dry and then placed the stickers where I wanted them.
The Vinyl is very thin but durable which means they sit very flat against the nail and also have a stronger adhesive than normal stickers. I tested a butterfly shaped one on my thumb and it is still there a week later without any peeling. I added a layer of Seche Vite over the stickers to help smooth them out for the photos but really I doubt you need to use it (also as a side note alot of stickers I have actually melt when the chemicals in the topcoat are put over it but these are very resilient).
I cannot express how great these look. The design looks fab and there is no faffing or hard work at all with these stickers!
You can purchase these stickers and find out other cool ideas on how to use them at their
WEBSITE
,
FACEBOOK
and over at
INSTAGRAM.
I have some other designs to show you too so keep your eyes peeled!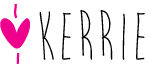 The inclusion of this graphic means that the product above was sent to me for review. All opinions are honest and all information is correct at the time of writing.