After
my interview yesterday
I promised you a review of some lovely Nail Doodles Decals today. So here you go. I really loved these Runes decals as soon as I saw them, they are so different. I have a love of all things mystic as well as language and history so I knew straight away that these were something I would love and I wasn't wrong!
Let me first say how much I love the packaging on these, everything is handwritten and illustrated, it is these little touches that really makes me love the Nail Doodles branding.
As you can see you get two sizes of each decal (each letter of the Runic Alphabet), I found the smaller size worked better for my nail as they are nubbins but most people will be able to use both sizes!
Again the back is really well laid out, you get a full set of instructions as well as some tricks and tips for application. All you do is cut out your design, remove the backing and then stick it down on your nail. Like temporary tattoos you then just wet the back until you can see the design through the paper and the backing should just slide away!
As a extra touch with the Runes Collection you get a translation sheet too which I thought was really thoughtful!
So what were these like on the nail?
I had no issues at all with application and then I topped my manicure with a thick coat of Seche Vite to stop the decals from cracking. (This manicure uses a base of China Glaze Petal to the Metal which was applied for me when I had my nails professionally shaped this week, it is much more neon than my camera shows it as!)
For those of you too lazy to translate this I wrote 'Ker' which shockingly is my nickname.
The decals are really crisp, there was no bleeding or blurring of the design once it was applied. In fact it looks really professional.
In all I am SO impressed by these and knowing they are handdrawn is even more fabulous, I adore the presentation and packaging and I know I will be ordering more. I also have a second set of decals to share with you so keep your eyes peeled for that too. You can buy these from
Nail Doodles on Etsy
.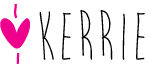 The inclusion of this graphic means that the product above was sent to me for review. All opinions are honest and all information is correct at the time of writing.